Do you enjoy art exhibitions?
I, personally, like to find one personal favorite piece of art out of hundreds of exhibits displayed in an exhibition space. Focusing on a work of art that seized my interest, I try to engrave every detail of that piece in my memory. In a large-scale exhibition, there is so much to take in that you cannot even remember much about what you had seen after a while. So I try to create one vivid memory relating to that time and space to affirm that I am accumulating a meaningful harvest, bit by bit, in my existence.
By the way, there is one thing that I always feel mysterious about while watching an exhibition of classical art.
As fast-paced contemporary humans, we rarely spend a whole day in a museum, sacrificing our precious time to appreciate fine art. Consider, one day, you have to meet your doctor where you spend two hours before going to a museum. This distracts you and makes it difficult to take in every exhibit closely. However, basking in the afterglow of the exhibition, you go to a posh area in your city to window-shop Swedish furniture. After meeting your friend to enjoy a French dinner, you secretly go to McDonalds alone because the dinner was not sufficient at all, and borrow a set of TV drama DVDs which you were careful to purchase on a discount day. Finally, you go back to your home after getting snacks and beer at a convenience store.
We, the people, find our lifestyles surrounded by a grab bag of events whose natures vary from the sophisticated to the sleazy. However, classical arts seem to exist somewhere far away from these contemporary phenomena. Isn't it strange? Classical paintings, sculptures, etc., must be "contemporary arts" as far as they are in existence at the present time. They belong to us, not to the people who have long since departed this world several centuries ago.
It is said that "to know the present, know the past." "Takashi Murakami's painting is linked to Picasso's which is linked back to Cezanne's, which is linked further back to Da Vinci's Mona Lisa." "Listen to audio guide assistance." "Read critical reviews." — They are all collections of wisdom from the past. I myself have respected (and will respect) these kinds of historical accumulations when I contemplate an artwork.
However, isn't it allowable to appreciate an old art piece as it is, without being bundled along with its background information? How can it be fun to come into direct contact with an art piece in front of you in the same way as you would with loud club music or with a comfortable wooden counter in your favorite cafe? These are the concepts behind this website.
Here, two fictional Japanese sisters, Rumi and Yasuyo, will appear.
They will chat freely and humorously about a certain exhibit chosen by younger sister Rumi out of an exhibition. Sometimes, they are sitting in a midnight bar and, in another, enjoying their conversation and time together in an open restaurant by the river.
At the top of each issue, a brief summery of the featured art piece will be presented.
What do "you" think about it? It would be interesting to ponder your own ideas before listening to their talk.
Character Profile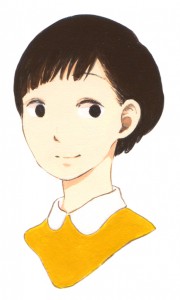 Rumi Asakawa
Born, lives, and works in Tokyo. Works in an antique shop which deals with western/eastern clothing, furniture and sundries: spends much of her free time in visiting museums/galleries/cinemas in Tokyo.
An adult whose mind is still wandering between real and fantasy like a bookworm girl: blessed with an ability to visit other, distant worlds in her head during her desk work which is, of course, does not allow her the time or space to enjoy the trip. She, herself, is annoyed by her own strong sensitivity and is challenged every day to become adjusted to the reality of society, although she was found talking intimately to a laundry machine just a few days ago…
Her motto: Summer heat or winter cold doesn't last on the other shore.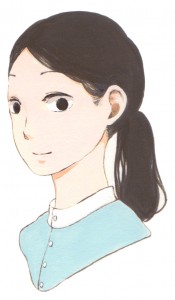 Yasuyo Yamana
Born in Saga Prefecture and now lives and works in Tokyo. An associate professor who manages a laboratory in a graduate school of biology: cares for her much younger sister, Rumi, who is absent-minded and sloppy with her money.
Even though she is on the outside of the art world, Yasuyo is a sharp-sighted person with a keen intelligence and sound common sense to be able to observe Rumi's fancy-free imagination and vague logic. Conversely, sharp-sightedness aside, she finds herself regularly wearing reading glasses.
Everyone knows how she can't get enough wine and Sake. Although she says she hates pointlessness and irrationality, she often goes to mountain climbing as her fancy dictates and loves inaccurate classical mechanical watches.
Her motto: Never give up smoking.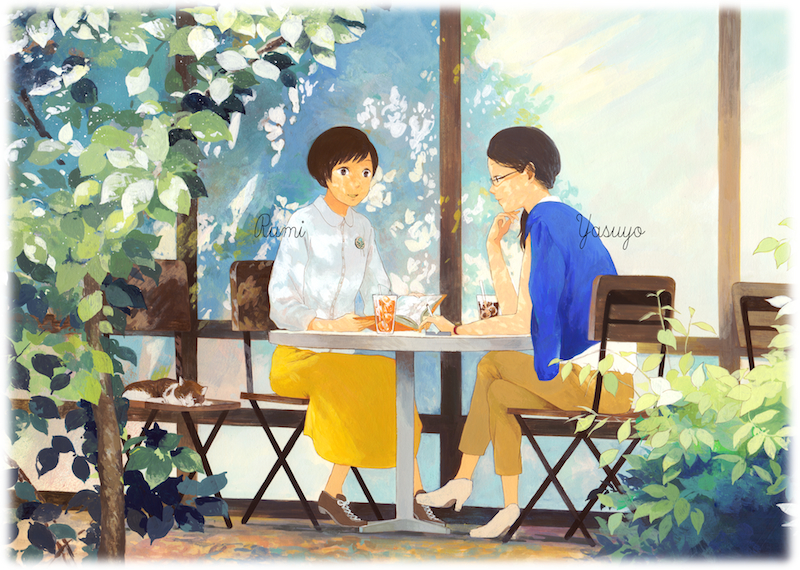 The following two tabs change content below.

【活動】アート系翻訳者。創作のさいには作家・淺川瑠未を演じます。365日マンダラノベル「#みぎわの夢」を連載中。本そのものを芸術作品と捉え、小説本をセルフプロデュースで制作しています。【嗜好】美術館・名画座・喫茶店に生息。竹久夢二、藤子不二雄、キャロル、ウルフ、ゴーリー、ボルヘス、小泉八雲、宮沢賢治に毒された仏教徒。

© 2019 issues.jp . All Rights Reserved.